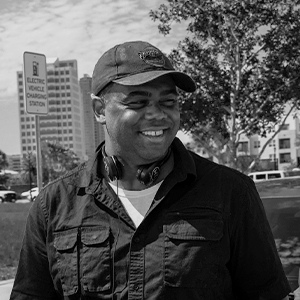 Director Seyi Peter-Thomas grew up in London before moving stateside to Washington, D.C., where he attended the prestigious Duke Ellington School of Arts. His early passion for filmmaking led him to NYU's Tisch School of the Arts. There, his sense for striking visual storytelling and strong characterizations began to emerge. "I am really fascinated by visual storytelling with a comedic edge," Seyi says. "I think of each piece of work as its own small film."
Seyi developed an eclectic cross-genre reel, including an Emmy Award-winning Black History Month campaign for Nickelodeon exploring the history of Charleston, S.C. His striking branded short for Motionpoems based on the poem "How Do You Raise a Black Child?," garnered awards from the One Show, Webbys, AICP and shots. Other recent highlights are a powerful PSA campaign for Youth Ambassadors honored by the One Show, which takes a very original approach to addressing the tough life problems city kids face every day, a Farmers Insurance campaign with Sesame Street marking the iconic children's TV series' 50th anniversary and Nickelodeon's recent "Unity over Division" Black History Month campaign. Seyi has also worked with many celebrities, including Shaquille O'Neal for The General and Stephen Curry for Rakuten.
Seyi began producing on-air promos at MTV before switching to writing and directing. Additional work includes a quirkily comedic campaign for Farm Bureau Insurance, a co-branded campaign for Geico and the VMA's ft. singer Daya, and his MTV Digital Abuse Initiative which became the centerpiece of President Obama's Conference on Bullying Prevention.