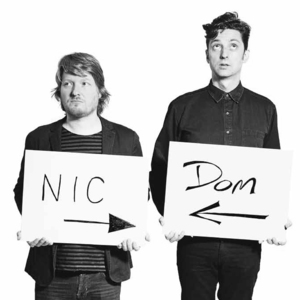 Dom&Nic are a directing duo renowned for pushing creative boundaries and developing an eclectic reel across many genres. Always one step ahead, each commercial and music video they deliver continues to build upon their elite strengths in special effects, visual storytelling and subtle humor.
Dom&Nic are often called upon for high-profile holiday spots including their series for Heathrow Airport and an anthem spot for M&S with animated characters Fairy and Ducky enjoying a gorgeous holiday spread from M&S Food when shenanigans ensue with the family dog in pursuit. Other recent work includes a whimsical spot for Ocado's featuring a voiceover from former Spice Girl Mel C over a truck caravan of carnival floats adorned with dolphins, garden gnomes, giant ice lollies and more.
Dom&Nic have worked with brands ranging from Cadillac, McLaren and Mercedes-Benz to 02, Vauxhall, Heineken and Coca-Cola, and have partnered with celebrities including George Clooney, Jon Hamm and Ashton Kutcher. Their "House of Cards" project for British housing charity Shelter (Leo Burnett London) was among the UK's most popular the year of its release and picked up awards at D&AD, the ANDYs and Epica, among others.
In addition to their prolific body of commercial work, Dom&Nic also directed popular music videos for Oasis, Smashing Pumpkins, David Bowie, Robbie Williams and The Wallflowers, among others. Their unique prowess for VFX and innovation shine through in their CGI marvels "Free Yourself" and "Wide Open" for The Chemical Brothers — with the latter picking up several Lions at Cannes.
The duo, made up of Dom Hawley and Nic Goffey, reside in Brighton, the British seaside resort well known by artists and fans of counterculture.