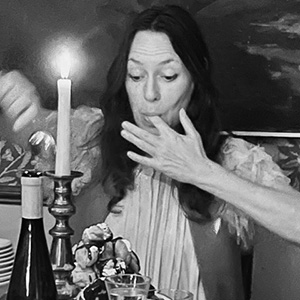 Helen Downing is a director best known for her food and lifestyle work, which portrays her subjects as contemporary, tactile and uniquely stylish. UK tastemaker David Reviews described her skill for "making any dish, modest or madly ambitious, completely irresistible." Today Helen is sought-after for this artfully delicious detail in her tabletop work along with crafting wider scenes for performers to work within. Among her commercial credits are campaigns for M&S, Blue Apron, Sainsbury's, Stella Artois, Dominos, Progresso and most recently a holiday campaign for Walmart's Asda. Helen's short film Food Glorious Food, a tantalizing journey from appetizer to dessert, has become a calling card for articulating her vision for food.
Helen began her directing career in live TV with a wide scope of UK programming, working in adrenaline-fueled environments with an endless stream of TV and musical talent. Going on to specialize in on-stage performance, she directed artists including Gorillaz, Foo Fighters, Blur, REM, John Legend and Red Hot Chili Peppers in a variety of international venues. Her passion for music lives on, in and out of work; she plays the violin and viola and finally realized her dream of directing an orchestral performance when she was asked to capture Ennio Morricone and his orchestra visiting London's Abbey Road Studios to record the Academy Award and BAFTA-winning soundtrack for Quentin Tarantino's The Hateful 8.
It was after making a TV series with Jamie Oliver that Helen relinquished the vast quantity of the cameras she was used to coordinating, and realized her passion for the skill of putting food on screen in a way which captures the natural beauty of food in its very essence, and beyond that to the enjoyment of the broader world of food and people which surround it.
When not traveling for work, Helen lives between central London and the English countryside where she derives equal inspiration for a life of sourcing, cooking and filming delicious food, and most importantly, sharing the experience.