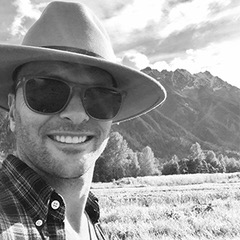 Mark Gilbert is a comedic director with a keen eye for casting and performance, often recognized as an "actor's director" capable of discerning comedy even in the most mundane of scenarios. He is renowned for his work with clients including BMW, Subaru, BMO, Mastercard, Skyy Vodka, Time Warner and KIA.
Mark's knack for understated comedic storytelling shines through in pieces like "Twins" for BMW and "Ladyballs" for Ovarian Cancer Canada, the latter of which took home a Cannes Lion and was highly lauded for gaining awareness in a funny yet poignant way. He has also directed more overtly comedic campaigns including a well received recent series for NJM's "No Jingles or Mascots" campaign.
He began his career as a commercial photographer, shooting images recognized by The One Show and Communication Arts. The British-born Canadian citizen then took a year sabbatical, traveling through Morocco, Cuba, Nepal and Thailand. There he photographed compelling portraits, winning assignments for National Geographic, Travel + Leisure, GQ and Elle.
Mark's talent for subtle, clever humor surfaced soon after, a style which attracted interest from London's BBH, AMV BBDO, Mother and DDB, who embraced his vision for quirky creative. He has received honors from Cannes, D&ADs, CLIOs, ANDYs and The Marketing Awards, and has been included in Saatchi & Saatchi's New Directors Showcase in Cannes.