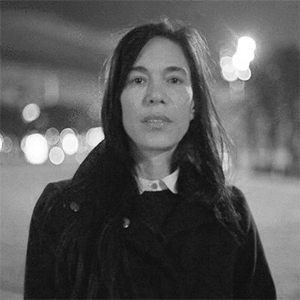 Ramaa Mosley is a director/writer who made her first film at 16, winning the prestigious United Nations Global 500 Award. Over the past 20 years, she has directed feature films and hundreds of award-winning commercials, building a career directing action and genuine human stories. In 2015, she was named one of SHOOT's Top 10 Female Directors to Watch. She recently led a TedX Talk about being a teen director called "The Power of Adolescent Directors."
Ramaa's prolific body of commercial work includes many sport-oriented pieces — like a Secret campaign featuring Alex Morgan and Abby Wambach, empowering docu-short "Like a Girl" for Always and quick-cutting "Band" for ESPN's Black History Month. She also specializes in cinematic lifestyle work, such as nostalgic Mother's Day series "Call Mom" for Verizon and campaigns for clients including Skype, Southwest Airlines, Ameritrade, Weight Watchers, Bank of America and Chevrolet.
Ramaa's documentary work has led her to become a vocal advocate for international girls' and women's rights, beginning with her turn directing the Afghan segment of Girl Rising — about eight girls around the world struggling to get an education against tremendous odds. It was nominated for Outstanding Documentary at the Image Awards. She later launched the U.S. social media campaign for #BringBackOurGirls to raise awareness of the Chibok schoolgirl kidnapping in Nigeria.
Her first feature, The Brass Teapot, is based on the original comic book of the same name which she co-wrote. Starring Juno Temple (Ted Lasso), The Brass Teapot premiered at TIFF and was nominated for an International Film Critics Award and Saturn Award. Ramaa's second feature, Lost Child (aka Tatterdemalion), is a dramatic thriller shot in the Ozarks and starring Levin Rambin, Taylor John Smith and Jim Parrack. The film, which she directed and co-wrote, won Best Narrative Feature at Kansas City FilmFest and Best Actress at the 64th Taormina Film Fest in Italy.
Through her selection for NBC's Female Forward Program, Ramaa made her television directing debut with her episode of Blindspot, which aired in 2019. Since then, she has directed episodes of Manifest, Animal Kingdom, All Rise, East New York, 61st Street, AMC's courtroom drama with Courtney B. Vance and Academy Award-nominated actress Aunjanue Ellis (King Richard) and Netflix's Top Ten series The Night Agent. She is also the founder of Adolescent Content, a global Creative GenZ Studio. Ramaa, a seasoned public speaker, recently spoke on a Women in Media panel at Sundance and led a SXSW panel called "The Future of Gender Identities in Art and Media."