Bringing a story to life that reaches a multicultural demographic from all walks of life and a wide breadth of ages is a tall order. Doing it in a way that entertains and informs how to conveniently get the most from one of the world's most popular brands led Walmart to director Lena Beug. Celebrating Walmart's apropos tagline, "We Don't Just Have Everything. We Have Your Thing," Lena collaborated with several agencies to bring her trademark high style to the brand's Back-to-School campaign, with warm, fun performances, well-crafted art direction and fast-paced montage to remind consumers Walmart is a go-to for most anything with the simple click of an app. 
Lena shares some insights below about her filmmaking process and how she brought this campaign to life. 
Q>  Your trademark production design and costume design shine through in these spots, especially with the distinctive set pieces, and the vibrant colors and eclectic styling. Are these things integral to your approach?   
LB>  Yes! For sure. A lot of thought and planning goes into it. I find the most joy in the scenes that are stylized, but in a way that you can't quite put your finger on. Anyone can dress everyone in the same color and then put pops of that color in the background. My approach (or what I'm trying to do) is more layered. It's real life, it's messy and chaotic, but there's an underlying sense of visual order.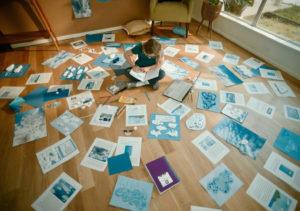 Q>  Are the spots as scripted?
LBB>  They are. But the scripts were pretty loose and open to change. I was given a lot of freedom in terms of bringing the scenes to life which of course I love, the concept though, was fixed. Find your thing – at Walmart, which has everything. And it turns out, Walmart really does.
The idea was to bring these very human moments – the 'losing your lunch box for the 7th time,' the 'deciding to green juice and then giving up,' the 'movie night with friends,' the 'making your own vacation' – to life in a way that speaks to today's audience. 
We created a new visual language for Walmart that felt young, contemporary, fun and fresh. My idea was to boil each scene down to pretty much one shot – but to bring action, movement and a POV so the visual and the words together tell a story. The words started it.   
Q>  When you first received these scripts, did you immediately start crafting the look and feel, or does that come at a later stage?
LB>  Immediately! Walmart was such a fun brief. To a certain extent, in a campaign like this – with no real dialogue and scenes across all walks of life – look and feel is everything, as well as the glue that will hold all these scenes together. They came to me to position Walmart as a more youthful contemporary brand in the tech space – which as a competitor to other online retailers it needs to do. The challenge is to do that and still have it feature Walmart products and feel true to the brand.
Q>  How do people know the campaign highlights the Walmart App?
LB>  The graphic language (developed by BUCK) represents the user experience of the app in a slightly abstract way, so for example – in the beginning of the spot the tiles are like the apps on your phone. Then we go full screen but much of the words and graphics on each scene are designed to look like website and phone elements, things like 'add to cart' and the button that allows you to increase quantities.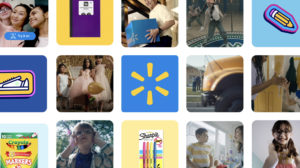 It wanted to feel more like the experience of using the Walmart app in your life rather than just watching people use it. We wanted to tell the story of using the app and shopping online without ever (or almost ever) seeing a phone, and certainly without any over the shoulder shots of phones or shots of phone screens.  
The whole style of the spots – the typography, the fast pace and the music – all nod to the deluge of information we confront daily, from instagram to TikTok to texts. It's non stop.
Q>  What about the Walmart products in the spots? How did you choose?
LB> The anthem spots are actually less about specific products and much more about the bigger picture idea, which is that Walmart has your thing – whatever that thing is.  
The :15's feature specific products – which are chosen not by me but by a team of experts.
Q>  The campaign is a mix of English and Spanish cultures but flows seamlessly. How did that happen?
LB>  Walmart has a number of agencies working together – one of them works specifically on the Hispanic market and another specifically on the African American market. I had the pleasure of working with all of them and learning not just about the differences in tradition but the many similarities. It seems like we all like to get together and eat 😉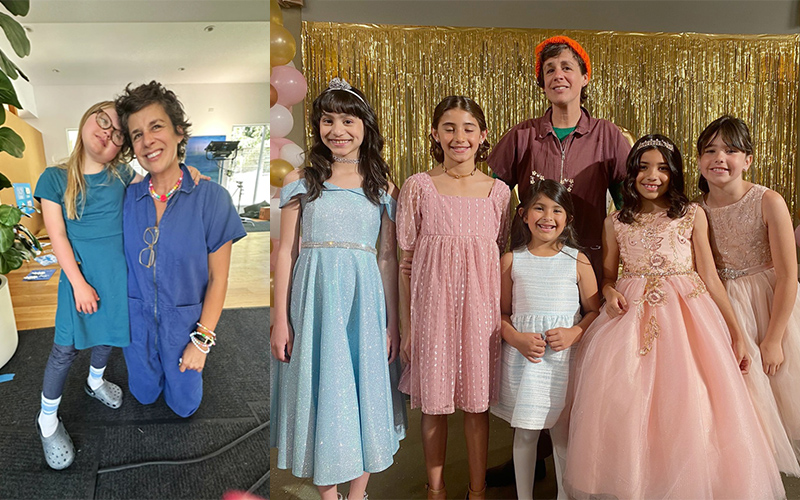 Q>  Music is a big part of the stories. Is the music from an existing track or original? 
LB>  The :60 piece is a track called "Next Big Thing" by West Rose that our Editor, Marlo Caine at Cosmo Street found; the :15's have tracks from all over the place. We all liked the fun feel of TikTok videos, which tend to have the best of the best when it comes to their music tracks. 
Q>  The choreography stands out. What were your objectives? Who did you work with?
LB>  If I could arrive again on planet earth in a different body it might be one of a dancer. We worked with a troupe of young dancers and a great choreographer, Misha Gabriel. I've also become very interested in the choreography of the camera and the actors. A moving camera alone is not all that interesting, but if it's following a person and finding an action, such as in the Fútbol scene, suddenly it's something we want to watch. It becomes a story.
Q>  The casting is diverse. What were your specs? What was the casting process like? Did you see a lot of people?
LB>  So many people! But casting specs need to be specific so much of that is nailed down before we cast.  I want to see people on the screen – whichever screen that might be – who are not only diverse but really represent a cross section of races/genders/colors/shapes/sizes/styles/abilities and so on. It's what makes being a human being and living on this planet interesting. And Walmart as a brand is totally on board. Everyone goes to Walmart and everyone deserves to see someone in a commercial who they can relate to.
Watch the spots below.
See more of Lena's work HERE.